Scare Tactics: A Quest for Extraordinary Villains
31 Oct 2016

It feels like every business is trying to steal their slice of the $8 billion Halloween market. The holiday continues to rise in popularity—more sophisticated getups, more ornate bake-sale offerings (looking at you, Pinterest), more snaps of cute kids in cute costumes—but in some respects, it also grows in mediocrity. One victim of the disease? Horror movies.
With hundreds of zombie films, too many Saw movies and projects like Jason Takes Manhattan, even the biggest thriller fans can get bored by franchises abusing October's penchant for blood and guts.
At LPK, we have an antidote for mind-numbing ideas and derivative brands. As a part of our process, we use our GATOR criteria to define what makes a brand extraordinary: it must possess gut appeal, be anchored, have a twist, be ownable and be relevant.
To properly torture test our GATOR criteria, we put it up against some of Halloween's most well-known villains. After surveying 100 people on twelve of the holiday's best monsters, killers and psychopaths,* we were able to crown our champion, a truly extraordinary slasher. The highest possible score in each criteria is 1—check out how our top four villains stacked up below:
4) Jason Voorhees
The mama's boy from Camp Crystal Lake is pure evil, having a strong gut appeal in our survey. Voorhees gets high marks as a horror icon and an ownable symbol of Halloween, but he needs more surprises and twists if he wants to reach the medal stand.
| | | | | |
| --- | --- | --- | --- | --- |
| G | A | T | O | R |
| 0.9 | 0.8 | 0.6 | 0.8 | 0.5 |
3) Dracula
Dracula might be the Kobe Bryant of this list. The GVOAT just doesn't strike fear into the eyes of his rivals anymore, but he still deserves to be in the villain hall of fame. Friendlier vampires from Twilight and True Blood probably haven't helped Dracula's rep. As the veteran of the group, Dracula achieves instant recognition with enough unique style to hold our attention.
| | | | | |
| --- | --- | --- | --- | --- |
| G | A | T | O | R |
| 0.7 | 0.9 | 0.7 | 0.9 | 0.5 |
2) Pennywise
Multiple online lists classify Pennywise as good, but not great. Our criteria uniquely recognize the extraordinary ideas behind Stephen King's character. Dubbed our most unique villain, this shape-shifting clown was twisted enough to ruin clowns for an entire generation of kids who stayed up late to see the 1990 miniseries.
| | | | | |
| --- | --- | --- | --- | --- |
| G | A | T | O | R |
| 0.9 | 0.7 | 0.8 | 0.7 | 0.6 |
1) Freddy Krueger
This dream demon crushes all five of our GATOR criteria, making him LPK's most extraordinary Halloween villain. Freddy has enough iconic assets—burnt skin, bladed glove, striped sweater—to make any brand manager drool. These assets work hard to make him both familiar and unique, both ownable and transformative.
| | | | | |
| --- | --- | --- | --- | --- |
| G | A | T | O | R |
| 0.9 | 0.9 | 0.8 | 0.8 | 0.6 |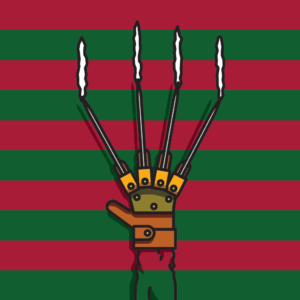 The courageous choices that horror films make exemplify how businesses should think about their own brands. Being extraordinary is not as simple as being bold or brutal. Our GATOR criteria help brands understand the nuance and tension often required to be great. Anchor and twist, for example, tend to tug at each other like a couple of brain-starved zombies. It's difficult to achieve one part of the criteria successfully without compromising on another. But with the right mix of courage and grit, brands can find a compelling expression to tell a killer story.
*Villains featured in the survey: Dracula, Zombies, Hannibal Lecter, Mummy, Norman Bates, Freddy Krueger, Pennywise, Michael Myers, Frankenstein, Leatherface, Jason Voorhees and Werewolf.
—
As a trends director at LPK, Michael Roller's commitment to creative work is guided by over 10 years of experience in the industry. An avid homebrewer, Mike uses socio-cultural ideas to narrate his beer recipes and label designs, taking a more holistic approach to create relevancy every day. Talk sub-conscious responses to design with him at @rollermt or send him an email at michael.roller@lpk.com.
Icon designed by Senior Designer Jesse Deegan. Follow him at @thebeardlessdesigner for more icons.