Before the Brainstorm: Tips for Killer Innovation Sessions
04 Dec 2015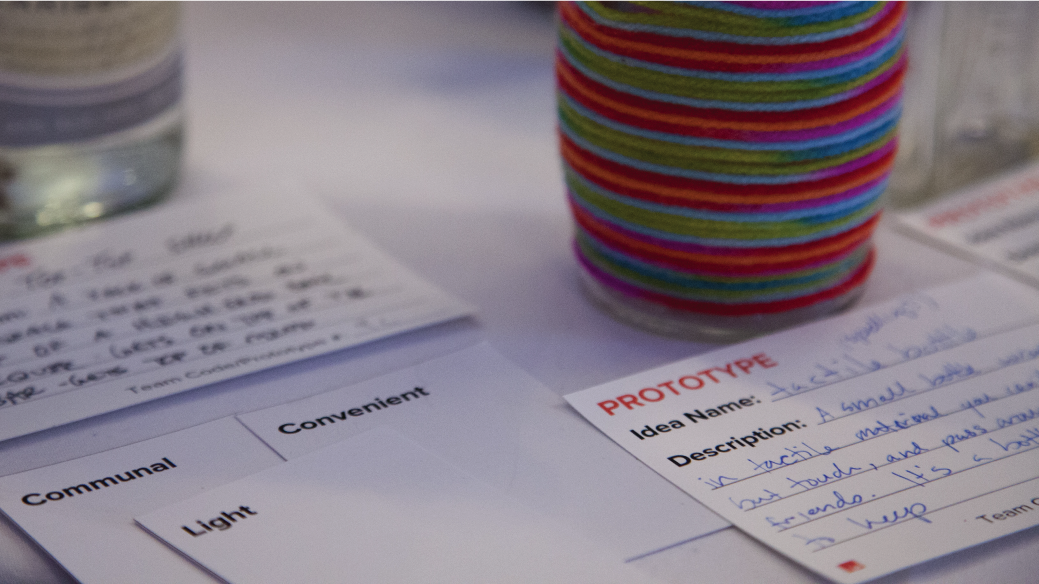 Post-it notes and Sharpies. Magazines and funky new products. Are these the things successful brainstorms are made of? In some ways it seems like common sense—simple, fun inspiration can help us clear our minds and bring out our most creative selves. But you need to manage for innovation. You can't just throw a bunch of imaginative or provocative people into a room with some colorful pens and a bounty of Post-it notes and expect them to come up with worthwhile ideas for your next product, brand or service.
Innovation is not a free-for-all. In fact, giving people free rein often stifles creativity and inspiration—and can end up being an enormous waste of time and money. People need to have some guardrails in order to be prolific and craft ideas of substance. So how do you go from blank whiteboards to actionable concepts? Here are some tips to ensure you get the most out of your next innovation session:
DEVELOP THE OBJECTIVE AND SUCCESS CRITERIA BEFORE DIVING IN
If no one knows what the goal is or what success looks like, you will get minimal useful outputs. Instead you'll have a random assortment of ideas that you won't want to spend time making sense of. To avoid this, develop an innovation brief outlining your objective, strategies, outputs and success criteria (Does it fit with the brand equity? Does it make sense to the consumer? How will it grow the business?). This will be helpful as you get into idea narrowing and as you articulate why you're innovating to those within or outside your organization.
PROVIDE AN IDEA TEMPLATE
Ideas developed without structure are meaningless. They get lost or thrown away, and only make sense to the person who wrote them. You likely already know what questions your ideas need to address (e.g., target, insight, benefits, timing), so write them down and share them with your team up front. These components seem simple and unnecessary, but if you skip this step, you will be forced to go through hundreds of incomprehensible ideas. Avoid this at all costs by creating a template for participants.
DON'T FEAR THE NAYSAYERS
Getting the right team in the room to help innovate is key to the final success of an initiative. Yes, your group should be cross-functional—but it should also include a mix of personalities. Don't just fill the room with cheerleaders, invite the naysayers too. Be prepared for critiques, but don't take them personally. Instead, view them constructively, as the crucial springboards for idea shaping that they truly are.
DEFINE THE VOTE
Think about how you want to narrow down your ideas. It's not important to know what people "like," you want to know why someone thinks an idea will grow a business. When it comes to voting, be specific about what you want people to evaluate. You can create voting themes (e.g., all ideas with a blue dot are low-hanging fruit, all ideas with a yellow dot are good but need work, etc.) or ask everyone to choose one idea they want to spend all their time working on and have them revise it with a small team. Be specific.
DON'T EXPECT ANYTHING GREAT, AT FIRST
Innovation is all about iteration. 90% of your initial ideas probably won't be able to be activated, and the 10% that have potential will take time, rework and rethinking to be molded into something actionable. Innovation isn't just a spark of genius. James Dyson worked his way through more than 5,000 failed prototypes before coming up with his groundbreaking vacuum design! It can take years to launch a new innovation, and that time is spent in constant iteration—testing, optimizing and retesting—until the idea delivers on your success criteria.
If you head into your next brainstorm with these five tips in mind, not only will you come out with a portfolio of viable ideas, you'll have set the foundation for an effective innovation strategy that delivers tangible results.
What's your approach for getting the most out of brainstorm sessions? Any tips you'd like to add? Share them with me at maggie.paulus@lpk.com.
—
LPK Strategy Director Maggie Paulus believes good innovation starts with intelligent questions. She's passionate about helping brands create new value, seeing startups succeed and building the confidence of young girls through running. Follow her on Twitter at @ClevelandMaggie or drop her a line at maggie.paulus@lpk.com.