Celebrating Bill Hannon and the History of the DMI
23 Sep 2015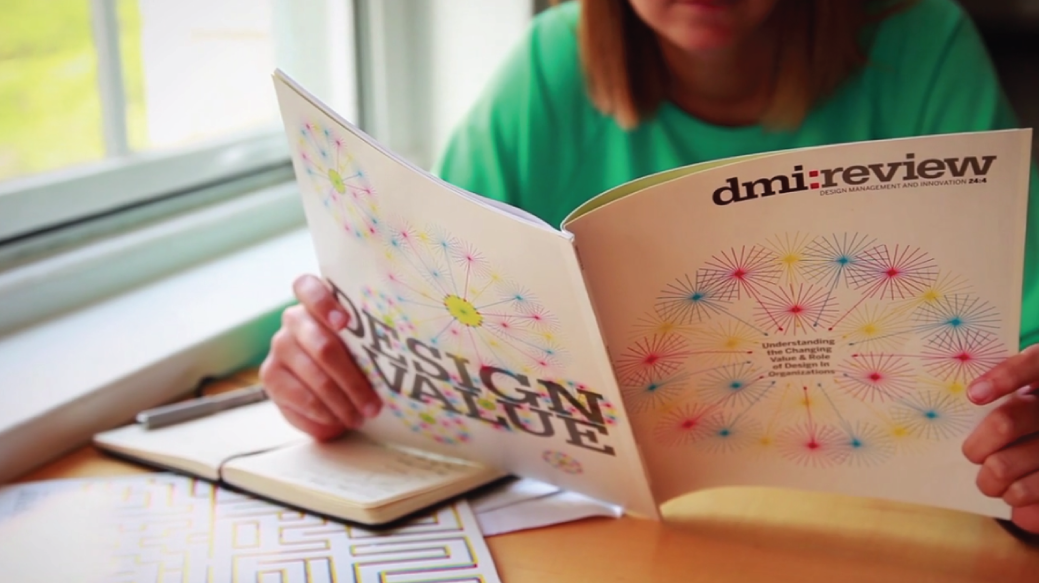 Back in 1975, when I was a young designer in the throes of inks and fonts and logos, a man in Boston, Massachusetts was thinking about my future, and about the futures of everyone who works at the intersection of design and business today. That man was Bill Hannon, the founder of the Design Management Institute (DMI), where I currently have the honor of serving as Chairman of the Board.
Bill realized that although there were many great organizations dedicated to the arts and design, no one was exploring the relationship between design and business. Meanwhile, the importance of design across industries and around the globe was rapidly gaining strength. Thomas J. Watson, CEO of IBM, had recently uttered his famous words, "Good design is good business." It was, and it still is.

Left: Carole Bilson (president of DMI) and Bill Hannon (DMI founder). Right: Through various programs, workshops and publications, DMI connects design to business, to culture, to customers—and to the changing world.
DMI started as an annual conference in Nantucket, Mass., a place for design professionals to share ideas and voice concerns, to network and to brainstorm solutions. It has grown into a community of over 27,000 individuals from over 40 countries and is an internationally recognized authority in design-management leadership. As chairman of the DMI board, I aim to ensure that we continue to shape the future of design, business and education for many years to come.
This year, as DMI celebrates its 40th anniversary, it's amazing to look back on all the wonderful contributions that DMI has made to the design-management community.
1975—Conferences and Workshops
The DMI conference has grown to include conferences in North America and Europe each year, with occasional speaking engagements in Asia. DMI also hosts interactive workshops throughout the year. Past events have included talks by Steve Jobs, Daniel Pink and Dieter Rams.
1987—Research Program
DMI conducts research, secures funding and partners with academic institutions on research projects.
1989—Design Management Review
This quarterly magazine, originally titled Design Management Journal, is the world's premier publication on design as a strategic business resource. Past writers have included Roger Martin (former dean of Rotman School of Management), Tim Brown (CEO of IDEO), Peter Gorb (known as the "godfather" of design management) and A.G. Lafley (President & CEO of P&G).
1989—TRIAD
TRIAD, the first international research project on design management, was initiated by Earl Powell, then president of DMI, and by Harvard Business School. The TRIAD exhibit traveled around the world to great acclaim, showcasing illustrated examples of successful product development.
1992—Case Studies
Our teaching case studies are included in the educational curriculum by schools like Harvard Business School, MIT and London Business School, and are used by many companies for in-house seminars and training programs.
2000—DMI: Journal
This annual juried publication issues original articles and research on design, business and education for educators, students, executives and managers in the corporate world.
2013—FuturEd
Since 2013, FutureEd has hosted a series of global events and dialogs between business, academia and students which map the landscape of best practices in post-secondary and professional education in design management.
2014—Design Value Index
The Design Value Index analyzed the performance of 15 publicly held US companies committed to design as part of their business strategy, monitoring the impact of their investments in design on their stock value over a 10-year period. DMI, partnering with Motiv Strategies, found that design-led companies have a significant stock-market advantage, outperforming the S&P 500 by 228%.
2015—Design Value Awards
Our latest project has been the launch of our very first Design Value Awards, honoring teams from around the world who have delivered significant positive value (financial, cultural and/or social) through design or design-management practices.
This September, we are gathering in Boston to celebrate the DMI's 40th anniversary, honor our founder, Bill Hannon, celebrate design luminaries and recognize the winners of the first DMI: Design Value Awards. I hope to see you at the 2015 DMI Design Leadership Conference!
—
As CEO of the world's largest independent brand-design agency, LPK's Jerry Kathman is recognized within the industry as a leading authority on the role of design in brand building. His global experience has provided Fortune 50 companies with insights into both the opportunities and pitfalls of building a global brand in today's rapidly changing world.