Beyond the Buffalo
28 Jul 2015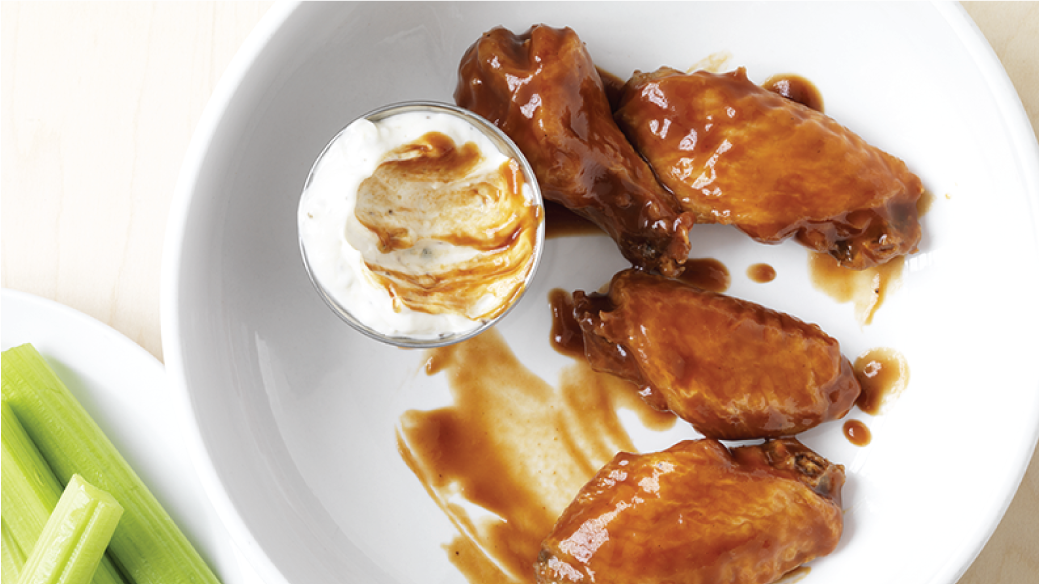 Ah, the buffalo chicken wing. A symbol of Americana. A sports staple. A tradition synonymous with crowds of noisy fans spilling beer as they high-five across heaps of bone-filled baskets oozing with sauce-soiled napkins.
This was the scene in many a college-town sports bar 30 years ago, as the wing craze first swept the US—and it's still a familiar scene today. But yesterday's undergrads are today's parents and grandparents. While their love for the game remains steadfast, their palates have matured, and they're looking to share the game-time experience with the next generation in a more family-friendly environment.
Buffalo Wings & Rings, a rapidly growing sports-restaurant franchise founded in 1984 with more than 60 locations in the US and abroad, saw this as an opportunity to redefine its position within a category flush with dimly lit dining rooms, limited menus and loudmouthed clientele.
"We wanted to take our brand to the next level, with a sports-restaurant experience that goes beyond the 'bro-zone' clichés of typical wing joints and sports bars" said Diane Matheson, marketing director for Buffalo Wings & Rings. "LPK helped us move away from the 'fan zone' and crystallize our position as the 'club level,' where the menu's more refined and the family's always welcome to share in the fun."
The elevated experience features chef-inspired menus with diverse flavors to satisfy every kind of fan, and a bright, inviting dining room reminiscent of a club-level suite.
To reinforce the positioning, we developed a collection of new and refreshed brand assets that would help differentiate Buffalo Wings & Rings from the competition and inspire franchisees to create a unified brand experience across the globe.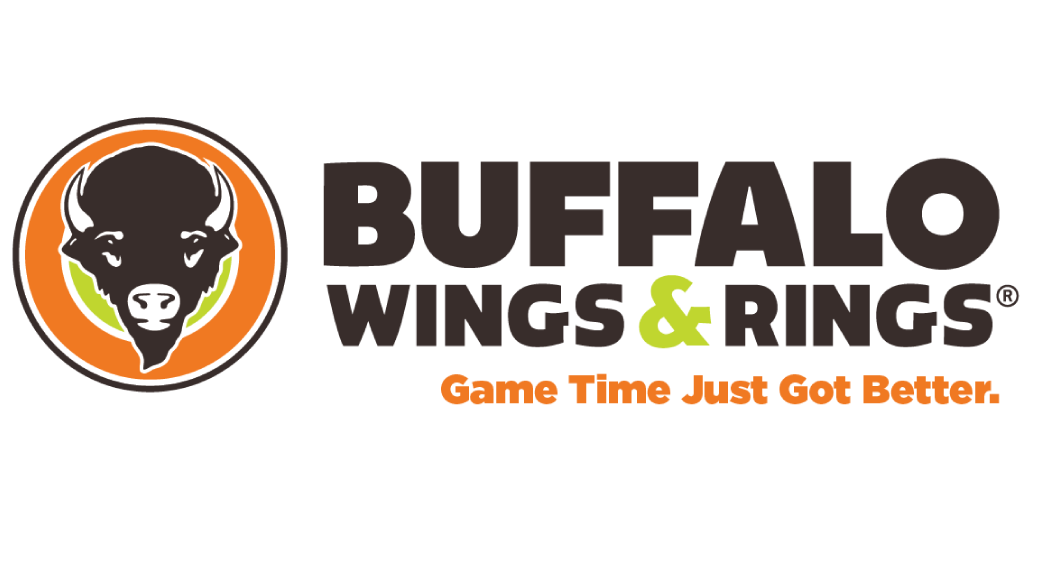 An exciting new tagline, "Game Time Just Got Better," alludes to the VIP treatment guests can expect, and a saucy, conversational tone of voice evokes the passion and confidence of both foodies and sports nuts alike.
We also developed customized patterns to help create a distinctive and ownable look across all Buffalo Wings & Rings communications. Featuring key visual assets, such as the buffalo head icon, sports imagery and brandmark elements, they reinforce the club-level positioning and allow for versatile seasonal messaging.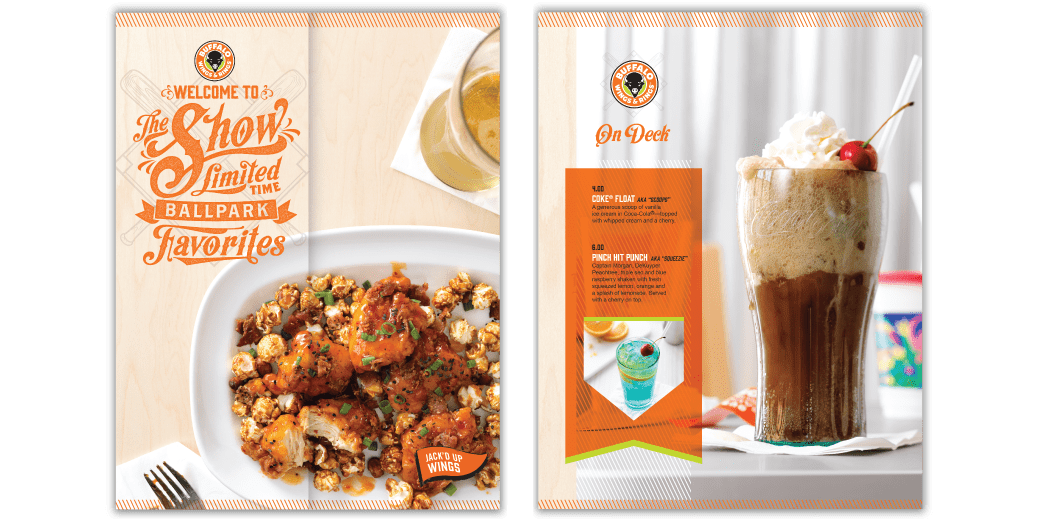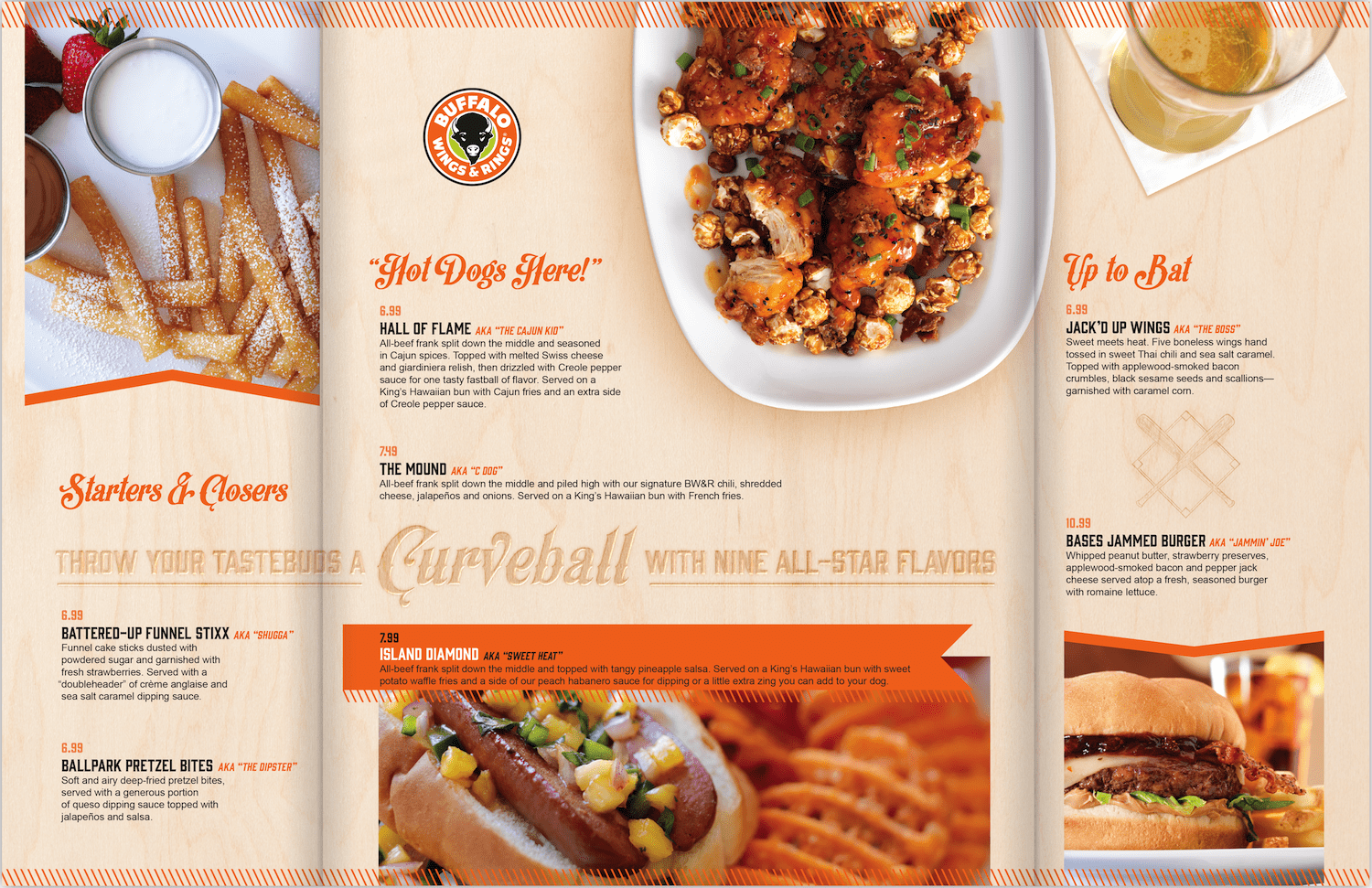 "A key part of bringing the club-level experience to life was photography," said LPK Brand Director Beth Hoskins. "We crafted and executed a modern photo strategy that not only emphasizes the delicious and intriguing chef-driven recipes that set the brand apart but, more importantly, tells a story of families and friends relaxing and enjoying VIP treatment while taking in the game."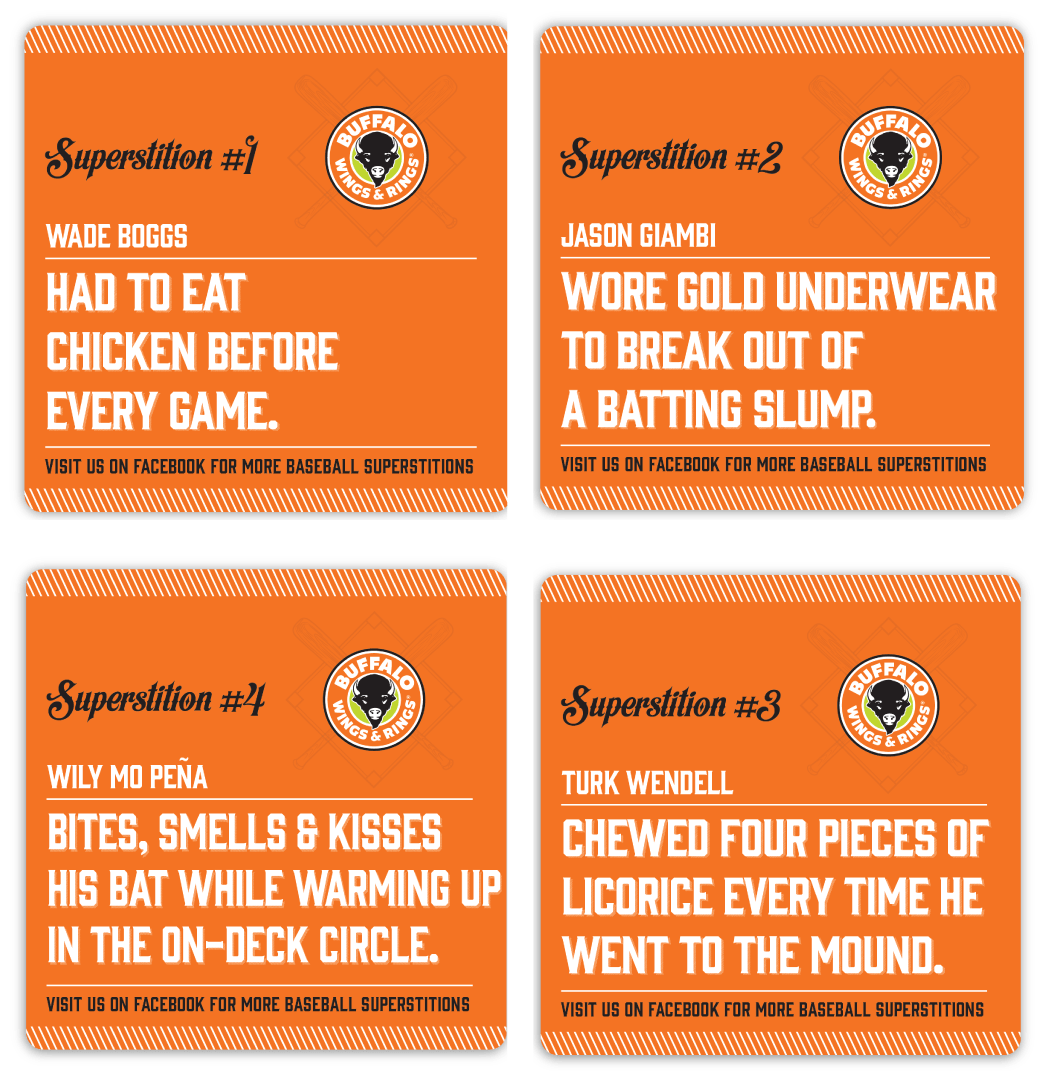 We also saw an opportunity to personify the brand and create a deeper connection with families and fans with a mascot. Enter Chef Buffalo, a character inspired by the elevated menu and the official ambassador of Buffalo Wings & Rings. From kid-friendly messaging to in-store events, he serves as a reminder that better food and family fun take game time to the next level.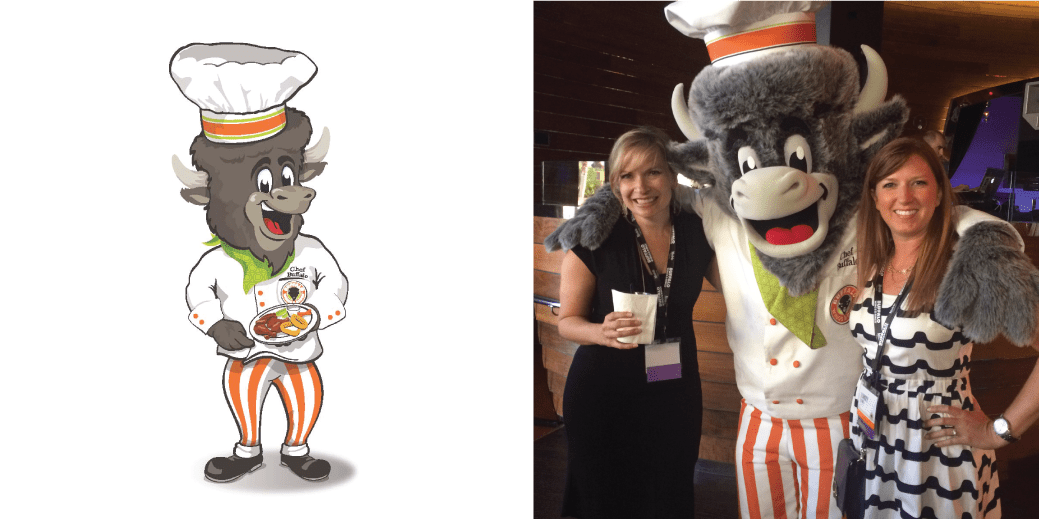 Next up for the partnership is an American football-themed limited-time offer campaign coming this fall. Look for it, and exciting new menu items and more, at a Buffalo Wings & Rings near you when the season kicks off next month. In the meantime, follow them on Facebook, Twitter or Instagram, or visit them at buffalowingsandrings.com for the latest promotions and events.