A Toast to History
04 Jun 2015
On Saturday, June 6, the Belmont Stakes will play host to yet another Triple Crown hopeful. Only 11 horses have managed the achievement, and it's been 37 years since the last was crowned. So the question on everyone's mind is, will American Pharoah break the dry spell and earn his place among the Triple Crown elite?
One thing's for sure—my colleagues and I will be rooting for a Triple Crown victory while sipping on a Belmont Jewel, the race's official drink, featuring Knob Creek Kentucky Straight Bourbon Whiskey. We'll be toasting history, but we'll also be toasting a partnership years in the making and our latest collaboration, Knob Creek's Belmont Stakes special-edition label.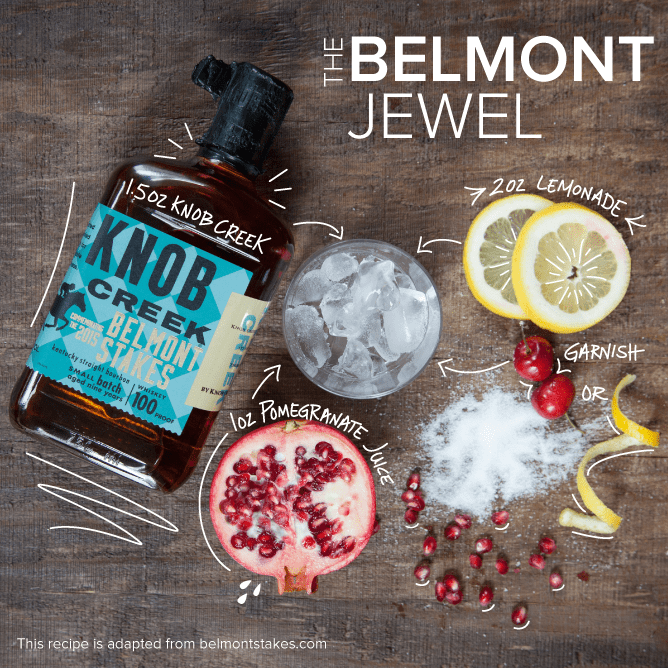 As the official bourbon of the Belmont Stakes Racing Festival, Knob Creek wanted to commemorate the last leg of the historic Triple Crown with a limited-edition bottle. LPK partnered with the legendary bourbon brand to deliver a design that captures the essence and heritage of both the premier sporting event and the classic small-batch bourbon.
The limited-edition label stays true to the craft feel of Knob Creek's signature hand-wrapped design, but in place of the newsprint background is a harlequin pattern reminiscent of a jockey's racing silks. The hues of green and gold evoke both the racing festival's brand and the bourbon's original label.
The Knob Creek Belmont Stakes 750mL collectible bottle is available in New York, Kentucky, California, Alabama, Pennsylvania, Mississippi and Illinois.
Not in your neck of the woods? No worries, you can still celebrate with a Belmont Jewel. Pick up some Knob Creek original label, check out the recipe above and join us in toasting history—37 years in the making!
—
David Volker is a creative director at LPK. His award-winning design and innovation work has made him an enthusiast in the whiskey, chocolate and crisps industries. David's childhood home was located on a street named after 1937 Triple Crown winner, War Admiral. When not studying up on bourbon and pony culture, he enjoys chasing around his 2-year-old daughter. Tweet him your favorite whisk(e)y drink at @DavidVolker or shoot him an email at david.volker@lpk.com.