If These Walls Could Talk
03 Jun 2015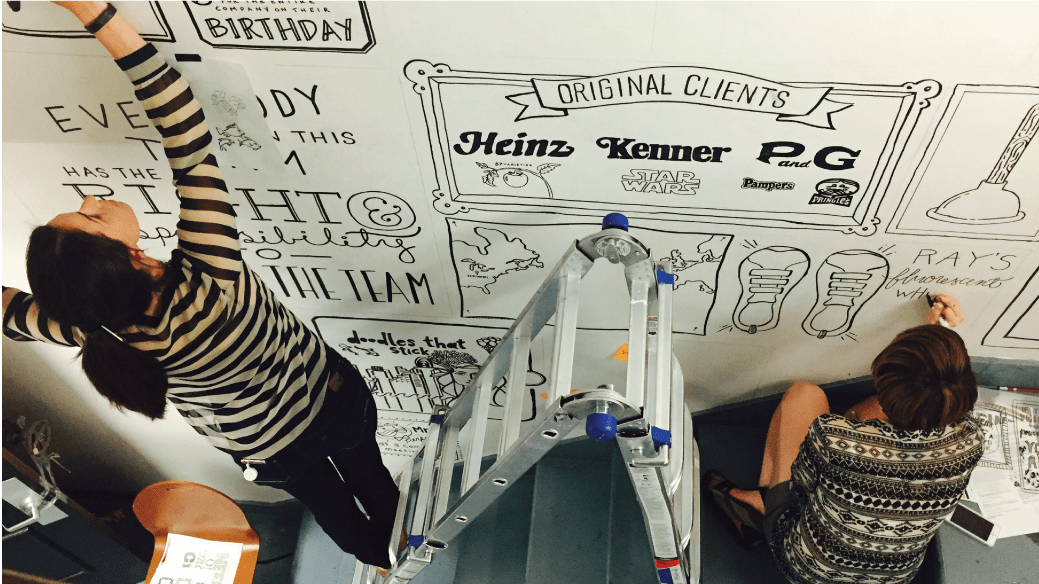 Some office stairwells are just that—stairwells. They get us from one floor to another. We take them, sometimes two at a time, and we catch up with the occasional co-worker traveling from the story above or below.
The stairwells at LPK's global headquarters were no different—eight flights of blank white walls and concrete steps, with just a random leftover poster or two to break up the monotony. Until now …
Design Adaptation Direction Annie Rizzo saw the space as a blank canvas aching to be disrupted. And as part of the wellness team working to improve employee health, she wondered if people would use the stairs more often if there were something interesting to see.
Inspired by New York City graphic designer, illustrator and art director Timothy Goodman, Annie and a handful of other creatives grabbed their Sharpies and took to the stairwell walls, transforming the space between two floors into a historical narrative celebrating our values of curiosity, integrity, freedom, respect and play.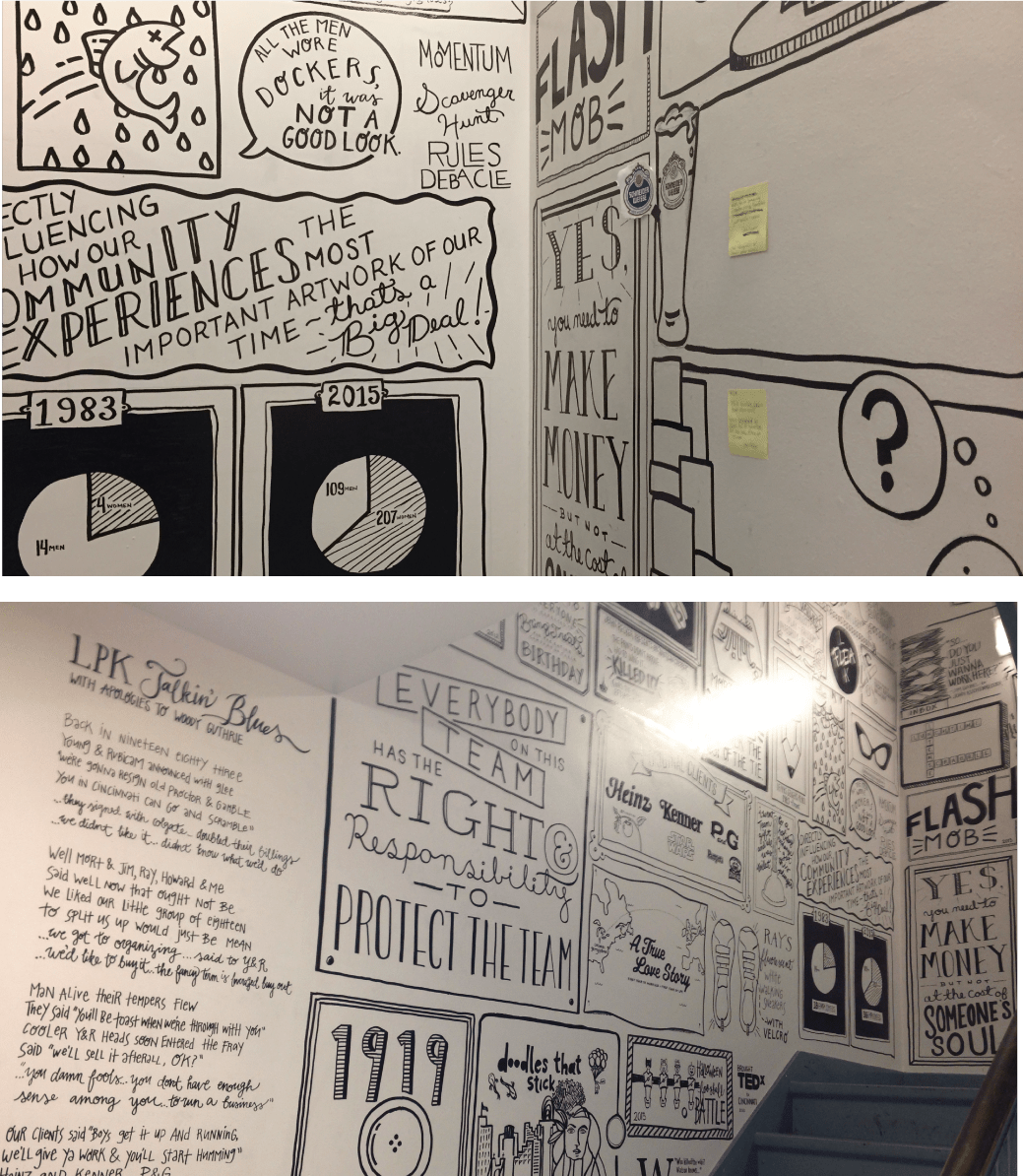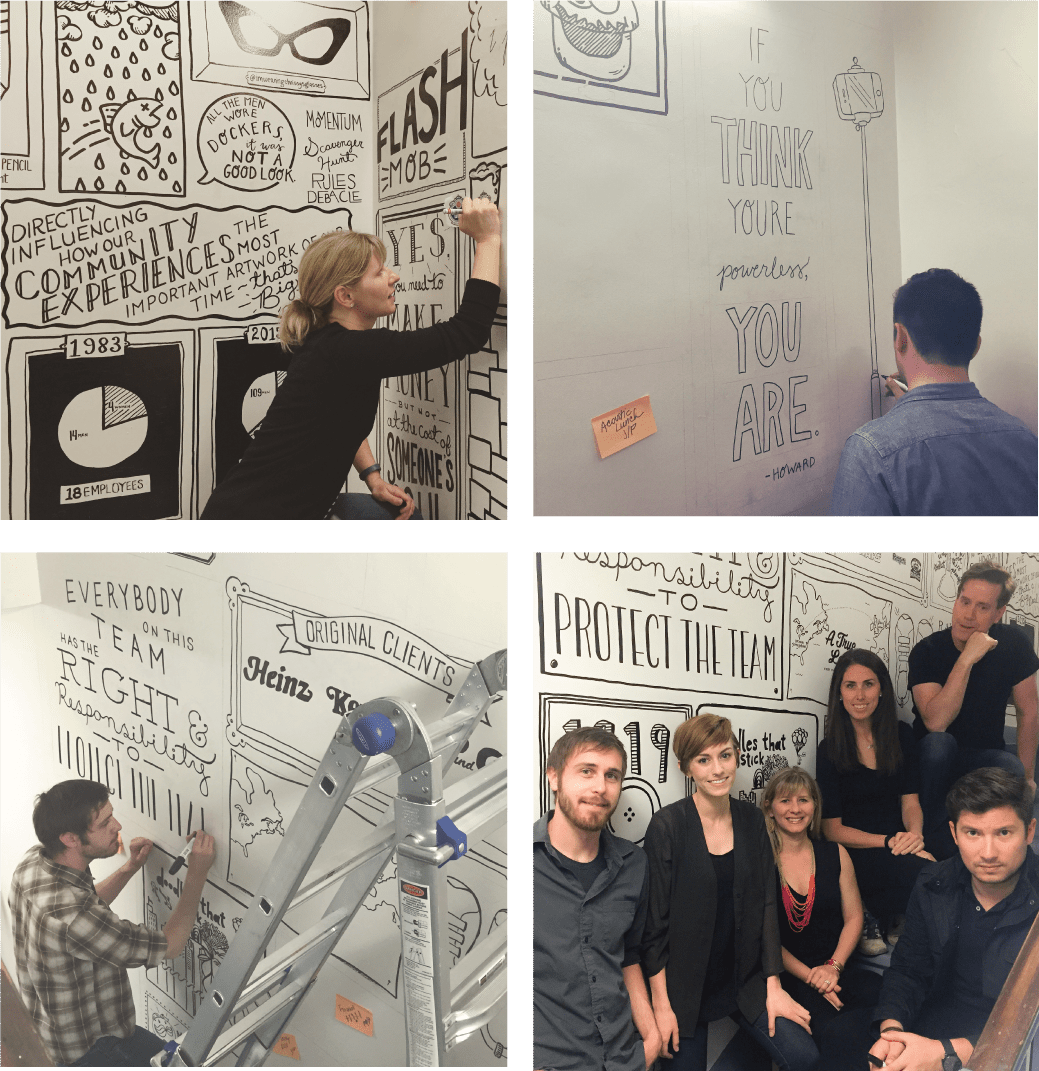 With fun illustrations and handcrafted typography, they recalled memories from LPK's earliest founding days to the latest company scavenger hunt, with remarkable tales of colleagues along the way.
"We wanted to include stories that employees may have never heard or may not remember. We didn't want these memories to get lost," said Annie. "And we have such great talent here—we wanted to use that for something we can all enjoy every day."
Senior Designer Meredith Post embraced the opportunity to lend her handiwork to the project: "It was really fun to just create with my hands for an hour a day. And now we have this beautiful, unexpected artwork tucked away in our stairwells."
"Hopefully we've inspired our colleagues to do the same thing on their floors," Annie added. "This is just the beginning. In the end, our goal is to create a stairway to better health for us all."
To view more pictures of the space, check out our Facebook album or search #lpkstaircasestories and #instalpk on Instagram.
LPK Staircase Stories is just our latest collaborative art installation. Others include: Disrupt the Square, What A Relief!, Doodles That Stick, LPK Lights It Up, It's the Love of the Throwback and a tribute to sculptor Anish Kapoor.